Día Mundial de la Escucha / World Listening Day. 2017
Convocatoria Abierta / Open Call
Promovido por el World Listening Project, el 18 de julio se celebra World Listening Day #WLD2017, un evento que nació en 2010 con el objetivo de celebrar la práctica de la escucha, concienciar sobre temas relacionados con la ecología acústica y diseñar iniciativas pedagógicas que exploren este tipo de prácticas.
El tema de este año, "Escuchando el suelo", es un tributo a la compositora Pauline Oliveros.
"A veces caminamos por el suelo, a veces por aceras, asfalto y otras superficies. ¿Podemos encontrar terreno para caminar, y podemos escuchar el sonido o los sonidos del suelo? ¿Estamos perdiendo terreno? ¿Podemos encontrar algo nuevo escuchándolo?"
Pauline Oliveros (1932-2016)
Mapa Sonoru como cada año se suma a la celebración del Día Mundial de la Escucha, lanzando en esta ocasión una convocatoria internacional desde Asturias. Mapa Sonoru invita a todos los interesados, independientemente del lugar del mundo donde se encuentren, a que envíen grabaciones de los sonidos que se producen en el suelo al caminar.
"Busca un lugar por el que te apetezca caminar, orienta tu grabadora hacia el suelo, dale al REC y echa a andar".
Fecha límite para enviar grabaciones: 17 julio 2017.
Las grabaciones recibidas se publicarán en el Bandcamp de Mapa Sonoru el 18 Julio 2017
-
Promoted by the World Listening Project, the World Listening Day #WLD2017 is held on July 18th. The aim of the event, which had its inception in 2010, is to celebrate the act of listening, raise awareness of acoustic ecology and design pedagogical initiatives that explore these kind of practices.
This year's theme is "Listening to the Ground". In addition, WLD 2017 reflects and honors the life and legacy of Pauline Oliveros.
"Sometimes we walk on the ground, sometimes on sidewalks or asphalt, or other surfaces. Can we find ground to walk on and can we listen for the sound or sounds of ground? Are we losing ground? Can we find new ground to listen to it?"
Pauline Oliveros (1932-2016)
As every year, Mapa Sonoru joins the World Listening Day. This time we launch an international call from Asturias. Everyone is invited to send recordings of the sound produced on the ground while walking.
"Find a place you want to walk on, direct your recorder to the ground, press REC and walk on".
The deadline for sending recordings is July 17th 2017.
All the recordings will be published in Mapa Sonoru Bandcamp on July 18th 2017.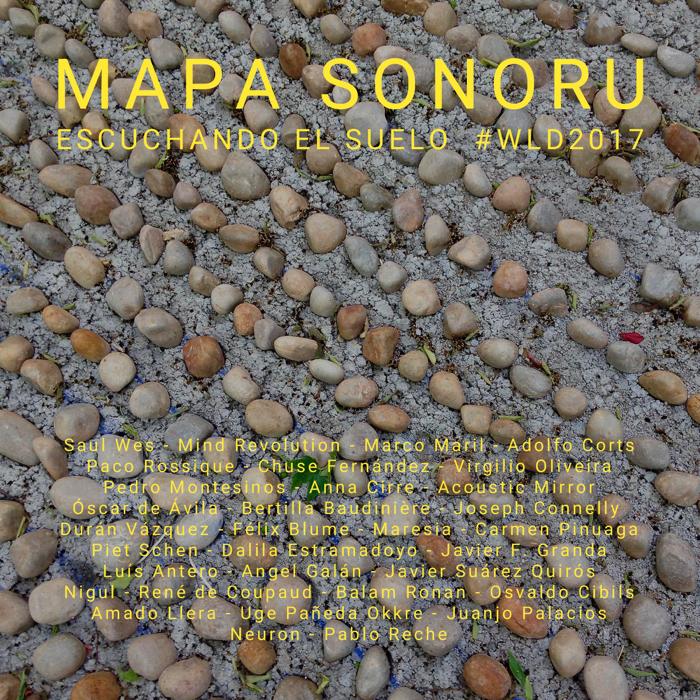 Este álbum es el resultado de la convocatoria que lanzó Mapa Sonoru para el Día Mundial de la Escucha 2017. Gracias a todos los que habéis participado y feliz escucha.
This album is the result of the open call launched by Mapa Sonoru to celebrate World Listening Day 2017. Thanks to all those who took part and happy listening.